QUICK LINKS


Products

QuickQuote
- overview
- demo
- more information


ServicePro

Custom solutions

Sales

Support

About us

Contact us


overview


demo - see how it works!


more information - what you get, system requirements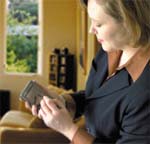 The QuickQuote estimating system is fast, flexible, and easy to use. It's Windows based and runs on PocketPCs. Built from the ground up, QuickQuote lets estimators:
survey using a lightweight, portable handheld PC
automatically rate the move
print the estimate wirelessly in the comfort of the client's home or office
seamlessly interface with back-end systems
Complete Solution
iPocket's innovative new technology lets you quickly and efficiently generate detailed estimates on-site. This complete solution includes a handheld PC and a lightweight, portable printer. And, QuickQuote seamlessly integrates with QuickQuote PC, iPocket's estimating application for your desktop PC.

QuickQuote and QuickQuote PC come with the 400-N tariff and Rand McNally mileage data. We are a licensed Tariff 400-N company.

As easy as 1..2..3..
Carry QuickQuote with you, tapping items on the screen to add them to the inventory. After you complete the survey, apply other charges from the menu. The system performs all the calculations, based on 400-N tariffs, in a matter of seconds. Then simply print the estimate on the portable printer. No wires, no cables, no waiting.

Enter data one time
Enter data once and get a printed estimate and an electronic file with all the customer and move information. Store hundreds of files on the handheld PC. And, modify the file at any time - on-site or in the office. Simply make the changes and print the new estimate.

Current version: 3.0
Platform: Windows

View our demo or click here for more information. To place an order, please contact our sales department at sales@i-pocket.com.